0
Bookends: Hand Designs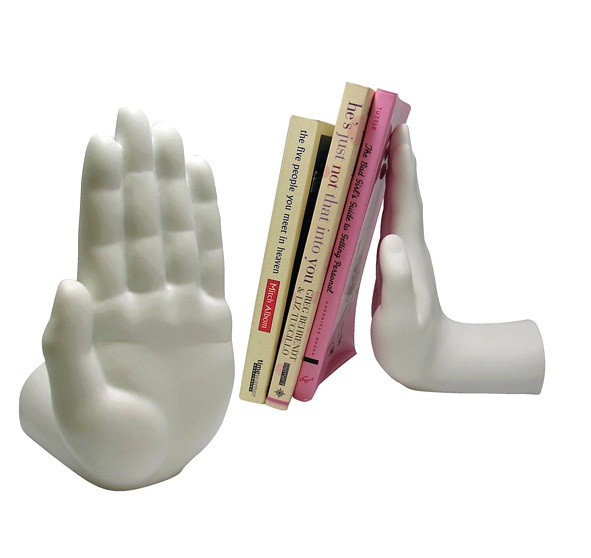 Ask any booklover or "bookworm" and he or she would tell you that there is no better feeling than holding books in the palm of your hands. Well, various designers took that concept quite literally, coming up with bookends that represent both the function of said items, and the passion one finds in books. Here are a few hand-inspired bookends that will definitely give you more incentive to keep on reading. Now, shelves will no longer look boring and plain, what with these "handy" (no pun intended) and unique-looking bookends.

STOP HAND BOOKENDS by Tech Tools
As the name implies, these bookends feature hands that are "palms up", or in the "Stop" position. Ideal for use on desktops and bookcases, both right and left hands are heavy and substantial enough to hold a stack of books. It is made of a durable mix of plastic and cement.
HANDS BOOKEND
Get that antique feel with this pair of hands set on a solid wooden base. Without the books, these would look great side by side, giving the impression of someone with his hands clasped solemnly together.
VITRUVIAN GRASPING HANDS BOOKEND by Menagerie
Made with high quality cold cast resin, this bookend will give you the impression of two hands grasping the books together.
THUMBS UP BRONZED BOOKENDS by Things2Die4
Give your favorite books the thumbs up with these bronzed bookends. Made with cold cast resin and featuring a beautiful bronzed finish, this sculpted bookend will definitely stand out on your shelves or desk tops.
So the next time you want to get your hands on your favorite books, what better way than to get them from another set of hands – your bookends?